It is very rare for a small business to get started in a bubble. When you start a small business, there is much planning that needs to happen before you open your doors to the public, from becoming incorporated to obtaining licenses, insurance, a physical location, a name, a website, branding, and the list goes on and on. And the big overwhelming task of starting a business and getting it off the ground is finding funding.
Journey Business Solutions offers the best small business loans. Our mission is to come alongside you and help you achieve your dreams. We can help you if you've been in business for three months and have a gross revenue of $5,000 or more per month. We require no credit checks for these small business loans. Below, we'll take a look at some of the most popular types of small business loans. Contact us to get started today!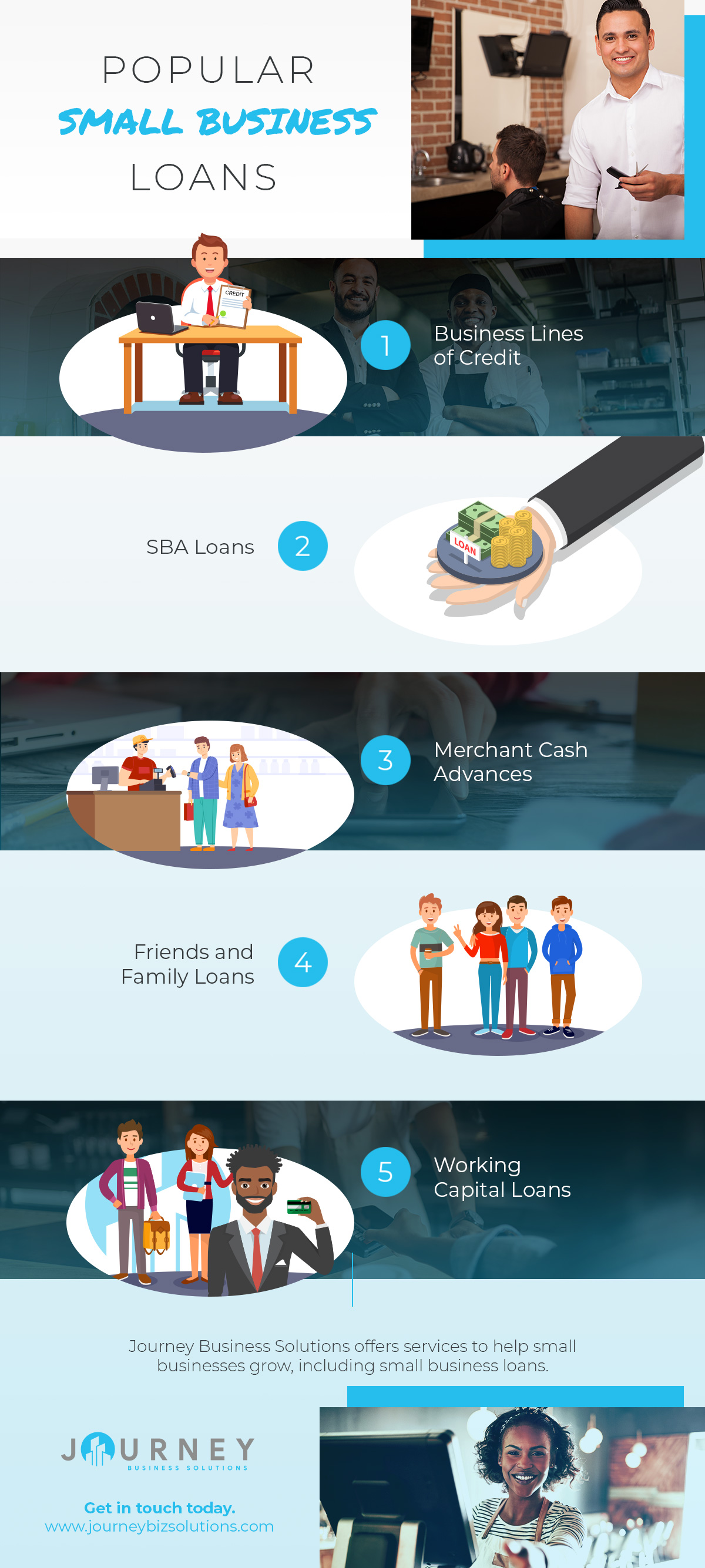 POPULAR TYPES OF SMALL BUSINESS LOANS
Business Lines of Credit
A business line of credit is a popular type of small business loan that has flexibility built in. These types of loans allow you to pay only on the amount you draw upon, which means you will pay less in interest overall rather than receiving a large lump sum up-front. Business lines of credit work similarly to credit cards; however, they often have a much lower interest rate. This small business loan is great to have to help with cash flow when needed, and they are not too difficult to obtain. You can get a secured or an unsecured business line of credit to meet your needs.
SBA Loans
Odds are, if you're a small business owner, then you've heard of SBA loans. SBA, or Small Business Administration, loans are backed by the federal government but financed through private lenders. This type of business loan is a secured loan, meaning you have to put up some assets in order to secure it. There are different types of SBA loans with multiple conditions. However, overall, these small business loans afford many businesses access to working capital they would not have otherwise. Plus, they have low rates and long terms.
Merchant Cash Advances
Merchant cash advances are very quick small business loans that work very similar to a credit card. Historically, this type of business loan has been used primarily by businesses that have a lot of credit card sales, such as retailers and restaurants. Merchant cash advances work by providing you with the capital you need in one lump sum up front in exchange for a portion of your future credit card sales. The money is usually pulled from your bank account automatically on a daily or weekly basis. These small business loans are unsecured and offer quick cash.
Friends and Family Loans
Arguably, one of the most popular types of small business loans is a loan from your friends and/or your family. These small business loans are relatively easy to obtain since you have a personal relationship with your friends and family, they love and support you, and they want to help in any way they can. Oftentimes, the interest on these loans is extremely low, and the repayment plan is extremely flexible. Plus, borrowing from your friends and family can lead to more word-of-mouth sales as well. Family members love to be a part of your success, and it gives them great joy to see your dreams come true.
Working Capital Loans
Working capital loans tend to be short-term small business loans that allow a business to have the working capital it needs in order to meet a particular goal, such as expansion, paying for inventory, or just managing day-to-day operations. These small business loans can also be used for debt management and emergencies. Journey Business Solutions offers flexible, customized small business loans to meet your needs. We offer a whole host of benefits when you partner with us, from a quick application process to funding within 48 hours and clear loan terms you can understand. Reach out to a team member to learn more today.
CHOOSE JOURNEY BUSINESS SOLUTIONS TODAY
The mission of Journey Business Solutions is to see your business grow. In line with that mission, we offer a slew of services to help you meet your business needs. Our small business loans are some of the easiest business loans to obtain. With our simple application and no credit checks required, we want to ensure every business has access to the working capital they need in order to grow and prosper.
In addition, we offer point of sale systems, payroll services, and more. We hope to be your go-to when you need help with cash flow and help managing your cash coming in and leaving your business. If you are interested in our working capital loan solution, call us today!