One of the less glamorous but essential facets to operating your business is the system you use for processing payments. Choosing the right POS system, as well as the ideal credit card machine, goes a long way in ensuring that your business operates smoothly and that you can quickly and effectively accept a variety of payment methods. When it comes to choosing the perfect credit card machine for your needs, there are a few factors you need to consider. As a Fort Worth POS system provider, we are here to help assist your business as you determine the right POS system and credit card machine for your needs. Check out the following helpful tips as you navigate the variety of systems on the market.
#1: Consider The Compatibility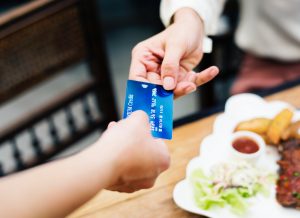 Credit card machines come in an array of styles and different types of machines will work well with different setups. One of the first things you should consider is the compatibility of the credit card machines you are considering. Some credit card machines are strictly compatible with proprietary systems. In other cases, a credit card machine will pair well with an array of systems.
If you already have a register or other component of your POS system that you need your new credit card machine to pair with, make sure that the credit card machine you choose is indeed compatible. For example, if you are operating your POS system off of a tablet, you will want to search for a credit card machine that easily connects to this.
#2: Look Into Transaction Types
Not all credit card machines are capable of the same transaction types. Make sure you look into what transactions the machine can handle prior to purchase. Most credit card machines will be able to process debit cards, credit cards, and EBT (electronic benefits transfer) cards. You might also want to look into what type of gift cards you can utilize with the system, as well as whether or not the system can process modern forms of payment such as Apple pay.
#3: Find The Right Aesthetics
Another aspect of choosing a credit card machine is picking something that will fit well aesthetically with your business. Some credit card machines are small and sleek, others large and bulky. Determine whether or not the appearance of your credit card machine plays a role in your choice. If you operate a chic boutique, you will probably want to invest in a sleek looking credit card machine that won't clash with your business' style.
The biggest part of the aesthetic of your credit card machine will be in the peripheral device. This is the physical item that allows your customer to input their pin number or possibly their digital signature.
#4: Shop The Available Accessories
When you pick out a credit card machine you will also want to consider what accessories are available for your purchase. For example, will you want a stand for the machine? Do you need to mount it to anything? You can also consider small add-ons, such as a privacy shield or spill cover. These items can make the use of the credit card machine easier, as well as protect your investment from being damaged.
#5: Learn More About Additional Features
Another consideration when choosing a credit card machine is what additional features it offers. Some of the following features are offered by certain machines:
Terminal Signature Capture: Older credit card machines required printing out a receipt and physically signing the paper. However, some modern models offer the ability to sign electronically via the terminal. These can help make the transaction process smoother and faster.
Tipping: If you operate a business in which tips play a part, you can benefit from a terminal that allows your customer to choose whether or not to tip before the transaction goes through. They can either add in a tip or choose from a preset percentage.
Offline Capabilities: Some credit card machines will allow you to accept payment even if you lose internet connectivity. These systems will simply store the data until you have internet again. At this point, the information will be forwarded and processed.
#6: Stick With Your Budget
Finally, with so many options available on the market, make sure you have a clear budget in mind as you shop. Work with a company that will help you find something that meets your company's budgetary needs. For a small business, it might not be necessary to spend copious amounts on a credit card machine that offers all the bells and whistles. Shop for something that will sufficiently meet your needs, rather than spending money on features you will never utilize.

Your One-Stop Shop For Processing Needs
Whether you need a simple credit card machine or you are looking for an entire POS system and accessories, we can help. Here at Journey Business Solutions, we work to ensure that small businesses have the resources they need to operate profitably. One important aspect of running any small business is having the right equipment in place to process transactions. From busy restaurants to small retail shops, an efficient means of accepting payments is a must. Talk to us today about the variety of credit card machines and POS systems we offer. We have a variety of choices to meet any business' needs.